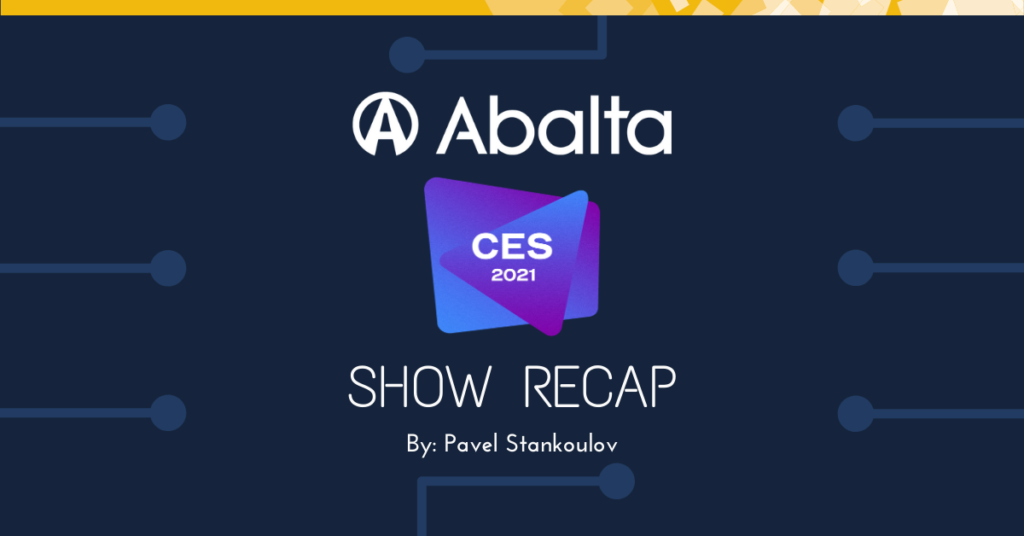 CES Overview
Now that Consumer Electronics Show (CES) 2021 is all wrapped up, we would like to share with you interesting highlights that we observed. The pandemic in 2020 helped in the "Worldwide Acceleration in Digital Trends". For the first time in 54 years, CES was held completely online. There were over 150 online seminars and sessions with over 5,000 hours of content. There was also additional content from the over 1800 digital exhibitors.  
This year, exhibitors had the opportunity to create their own content and upload videos to share their new product innovations and vision of the future. This created a vastly different experience.  Having attended CES for the past 15 years, the experience of being in Vegas, walking the show floor, touching new gadgets and widgets, and talking directly to manufacturers cannot be replicated by a digital experience.  Honestly, the digital experience felt disconnected. The important direct engagement was completely missing.  Nonetheless, there was a huge amount of information that was shared, and this is what we would like to highlight here. 
Consumer Trends
With most people staying at home due to the pandemic, there were key areas that became extremely important for consumers.  Home office, gaming, cooking, recreational vehicles, and unique uses for vehicles were just some of the popular consumer trends in 2020. Vehicles became a sanctuary for many people.  Using it as a home office, getting outdoors to go off-road, or sitting inside the car to watch a concert become common use-cases. The shift to work-from-home created a huge demand for home office equipment. Webcams were top sellers in most consumer electronics shops. The biggest impact the pandemic had on consumer trends was the overnight shift to digital. 
During the pandemic, all age groups started using digital technologies for interactions. Students, workers, and family members starting using web conferencing to stay during the lockdowns.  Products like Zoom really helped to simplify the experience. Retailers and restaurants quickly moved to offer online ordering, contactless and curbside pick-up to give customers a safe and convenient experience with obtaining goods and services. Best Buy CEO, Corie Barry, mentioned in her keynote that Best Buy had to accelerate their shift to digital almost overnight rather than their original 3-year plan to give their customers control over how to obtain their goods quickly and safely.  
Technology Trends
As automotive tech enthusiasts, we wanted to share our favorite products and technologies featured at CES. 
The top automotive-related megatrends emphasized in this CES were: 
Artificial Intelligence (AI) – AI is everywhere and not only in vehicle-related tech such as autonomous vehicles, smart displays, user customization, battery management, etc. It is in almost every other new consumer product. AI is often touted as a feature but appears to be a marketing ploy rather than an actual feature. 

Alternative fuel vehicles – Electric vehicles are coming and will likely become the main vehicle energy mode in this decade. There were quite a few announcements around EVs and fuel cell technology at CES. 
5G / Connectivity – 5G was the big buzzword at this year's CES. During panel discussions, it was mentioned multiple times as one of the big technology enablers. It promises fast, low-latency, and high-bandwidth connections along with a wide range of technologies that this will empower. 
Another technology trend at CES was the big focus on COIVD related technologies. Many of these technologies will disappear after the pandemic, but some will remain relevant. For example, many of the contactless technologies around payment, user experience, voice, etc. will likely become the norm. 
There was an interesting discussion on the state of quantum computing. Quantum computers from IBM have been on display at CES for several years now. As technology advances, the understanding of quantum computing and computers is becoming more mainstream. Although quantum computing still has limited practical applications, there is increased interest and a push to evangelize it to the wider technology community. IBM is offering cloud APIs to execute quantum computing tasks. The goal is to make programming models easy to use and understand. The advancements in quantum computing are already raising flags about the potential for breaking today's state-of-the-art asymmetric encryption algorithms. There are recommendations for companies to start transitioning to new post-quantum algorithms that even a quantum computer will not be able to crack. The expectation is that in 10 years the quantum computers will be able to obsolete the current RSA-based private-key algorithms. 
Autonomous Vehicles
As in recent CES events, there were multiple autonomous concept vehicles introduced. This year, there was a focus on these vehicles becoming mobile living rooms or office spaces. GM highlighted its fully autonomous Cadillac Persona AV concept vehicle that is based on their Ultium platform. Like other concept vehicles, it is assumed that autonomous driving is a solved problem and focuses on the user experience inside the vehicle. 
Mobileye made a prediction that autonomous vehicle technology will be ready for level-4 autonomy consumer applications by 2025. They are developing a camera-first solution that uses LiDAR and multiple imaging radars as back-up systems. 
Mobileye also developed a technology to collect and build autonomous vehicle maps using images from production cars that run existing advanced driver-assistance systems (ADAS). The system is completely automated and removes the need for human labeling. They claim that they can currently collect and process data from approximately 1M vehicles. 
There were discussions that the future of the LiDAR technology is the new frequency modulated continuous wave (FMCW) approach. A traditional LiDAR sends out bursts of discrete pulses of light and measures how long it takes that pulse to return to the sensor. An FMCW LiDAR can calculate both the range and velocity of objects. This makes FMCW LiDAR more effective than the traditional time-of-flight LiDARs. Multiple companies are developing FMCW LiDARs for commercial use. 
 John Deere has been exhibiting at CES and positioning itself as a leading technology provider. They have been developing and deploying autonomous farming equipment well before the hype of self-driving cars. At this CES, John Deere showed their new autonomous tractors, robots, and planters. They showed technology that can precisely plant individual seeds and use different spacing or planting patterns depending on the type of plant. Another machine could apply fertilizers targeted at each plant and thus reduce the waste dramatically. 
Caterpillar has become another autonomous technology provider for non-passenger vehicles.  They talked about their autonomous mining equipment. In 2020 they expanded their autonomous capabilities by buying Marble Robotics. Caterpillar's fully autonomous hauling vehicles already drive in mines and log more than 50,000 miles every day. 
Electric and Fuel Cell Vehicles
Electrification of vehicles is one of the main trends of this decade. Most car makers have announced major electric vehicle initiatives. During CES 2021, General Motors introduced their GM Zero initiative – zero emissions, zero accidents, and zero traffic congestions. They announced that they will release 30 new electric vehicle models within the next 5 years. These vehicles will be based on their new Ultium battery platform. The first release based on this new platform is going to be the Hummer EV Edition 1, which is expected in the Fall of 2021. It will be followed by the luxury Cadillac LYRIQ to be released in 2022. The Cadillac will have a 300-mile range and come equipped with Super Cruise, which is the GM version of autopilot. 
Bosch showed a battery management software platform called "Battery in the Cloud." It collects data from the electric vehicles to monitor and analyze the battery condition. It aggregates data from large fleets of vehicles and uses AI to analyze the factors that stress the battery. It is advertised as a solution that helps to prevent premature battery aging, perform proactive warranty management, and reduce the total cost of ownership. As more EVs are sold, the number of vehicles sold in the secondary market is growing as well. The consumers would want to know and understand the condition of the batteries on the second-hand EVs they are buying. Bosch's solution offers a usage certificate to help with that. 
Small delivery trucks are great candidates for electrification. For the larger and heavier trucks, the battery size and weight as well as the long charge times are still big problems. Although electric trucks are the hype, it seems that there is also a big push to use hydrogen (fuel cell) engines for large trucks. Hydrogen offers much better energy density than the current generation of batteries. The charging station problem is easier solved for large trucks with service limited routes. At CES, PACCAR announced multiple electric and fuel cell trucks.  
Software-Defined Car
With vehicle electrification and widespread adoption of AI in the car, there is one trend that was not explicitly shown at this year's CES but permeates most of the vehicle technologies shown. This trend is the transition to software-defined car. From the autonomous vehicles to the common EV platforms, the technology and differentiation shift from hardware to software. The car companies are starting to focus increasingly on the software.  
Cars will have increasingly High-Performance Computing (HPC) capabilities and will be running more sophisticated software. Over-the-air (OTA) updates will be standard and will change how the car will depreciate and change over time. As demonstrated by Tesla, the performance of a software-defined car might be able to improve over time with new algorithms and without the need to change or replace hardware. 
IBM shared their analysis of where the automotive industry is going to be in 2030. One of the insights was that car companies will have trouble hiring software talent. The challenge will also be to keep the technical skills up to date. In one of the analysis, they concluded that the half-life of skills is now only five years. This means the skills learned today are only half as valuable five years from now—and we do not even know what we do not know yet. 
5G
A lot of talk at CES was around and about 5G. 5G promises to deliver improved speeds, very low latency, and high bandwidth. There are two categories of technologies based on 5G that were discussed. The first category can be called "better on 5G". It describes existing technologies and applications that already work on 4G but will run better on 5G. The other category of technologies can be called "only on 5G", i.e., technologies and solutions that will be enabled due to the new features of 5G such as low latency, improved positioning, deployment of multi-access edge computing (MEC), etc. The hope is that as 5G gets deployed and adopted, new and exciting apps and features will emerge.  
Multi-Access Edge Computing (MEC) technology is often mentioned in discussions of 5G. It brings cloud computing to the edge of the mobile network. It is recognized as a key component of networks that can enable ultra-low-latency connections. This is expected to power the autonomous services of the future. 5G MEC will leverage a dense and complex network of small cells along with optimally placed edge servers. 
HERE announced a proof of concept that they have been developing with Verizon for a visual positioning system. It works similarly to the way humans locate themselves by analyzing what they see around them and accessing visual memories of places. HERE's visual positioning compares imagery of specific locations to a database of 3D geometry objects, created from LiDAR-captured 3D pixel-point cloud maps, and then stored on MEC servers for fast access. The computation is aided by machine learning and the provisioning of an accurate position is performed in real-time. This advanced positioning system does not use the 5G positioning standard. It does not rely on remote servers and is not obstructed by tall buildings, urban canyons, or signal deserts. 
Conclusion
Although there were far fewer exhibitors than normal and the event was virtual, CES 2021 was filled with lots of new and exciting ideas for the future. The pandemic made a massive impact in the consumer electronics industry and has created shifts in consumer trends. CES is normally a place to walk the show floor, interact with exhibitors, and stumble upon unexpected new product innovations. This was something we missed this year along with the fact that there were far fewer attendees than normal. Nonetheless, we continue to see huge innovations occurring that will not only get us past the pandemic but will make us all more resilient in the years to come. At Abalta, we look forward to being part of the advancements in the consumer electronics space. If you would like to learn more about any of the topics covered in this recap, please feel free to reach out to us. We would love to hear from you.